Written by:
Tony Korologos
|
Date:
Sunday, May 15th, 2005
Categories:
PGA Tour
---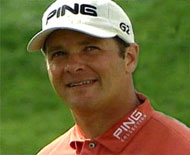 The PGA Tour's slogan is "These Guys Are Great." At the close of the Byron Nelson their slogan should now be "Who Are These Guys?"
Ted Purdy hit every green in regulation on Sunday to record his first PGA Tour win. That is amazing, especially considering how thick the rough was at the Byron Nelson.
Sean O'Hair put himself on the map this weekend. He's a young 22 year old who has been a pro since he was 17! His story is actually quite brutal. His father signed him to a contract and ran his life like a military school to train him for the PGA Tour. The kid has tons of talent and will win his share of tournaments, but will he enjoy it?
Vijay Singh recorded a hole in one on his way to a 3rd place finish. Who is #1 now?