Written by:
Tony Korologos
|
Date:
Friday, May 13th, 2005
Categories:
Golf Accessories
•
Golf Equipment
•
Reviews
---
The Visiball glasses are supposed to make you see golf balls you might not see with the naked eye. Do they work? Here's a quick little review to find out.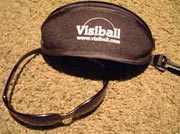 The Science
The Visiball glasses are designed to reduce the the light reflecting off background objects and grass. Special pigments in the Visiball glasses cause white golf balls to emanate a "glow" effect, making the balls easier to spot.

This image above shows the regular and Visiball image fields. The area shown has 4 golf balls in it. In the image on the left you can't see the golf balls. In the right side Visiball image you can see them.

Two Styles
The Visiball comes in two styles: The model V-100 and the model V-500.



The V-100's kind of look like Oakelys.



The V-500's look like the glasses you'd wear on the way home following cataract surgery.
In Action
My golf buddies all were intrigued by the Visiball glasses. When I first put them on I felt like I was walking around on some other planet, like a blue version of Mars. Everything is very blue. They seem to knock out all the green and darker shades that you see. My first test with them I knocked my ball in some knee length grass. I found a Top-Flite right away, but never found my own ball.
My friends and I tried them again in a hazard that was not too thick. All they could seem to say was "wow, that's strange" when they wore them. We never found that ball either.
In my back yard I took about 5 balls and threw them over my head into some very thick grass (since I hadn't cut the lawn in a while). When I turned around I could not see any of them. I put the Visiball glasses on and I still couldn't see them. I could only see the balls in this grass when I was standing directly over them, regardless of whether I was wearing the glasses or not.
Conclusion
Though they enhance white objects in your field of vision, I didn't really think the Visiball glasses worked very well. They certainly didn't work well enough to warrant the $40 price tag. Put the money into a lesson from your PGA pro so you can learn how NOT to knock your balls in the long grass in the first place.