Written by:
Tony Korologos
|
Date:
Wednesday, May 11th, 2005
Categories:
Golf Courses
---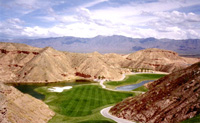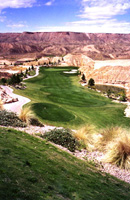 Mesquite Nevada is turning into a golf mecca. Let me rephrase that. Mesquite Nevada IS a golf mecca. Mesquite is about an hour NE of Vegas on I15. Why someone would drop $200-300 on a round in Vegas when they can go to Mesquite or even St. George Utah to golf is beyond me.
Here are a couple of snaps of a new course that just opened there called Falcon Ridge that my dad snapped when he was there last week.
I had to make these two pics small so they don't screw up the format of the blog here. If you want to see bigger versions of these pics and a bunch of other cool golf course pics (including Augusta National) CLICK HERE to go to the golf photo album on my other site: Web Country Club