Written by:
Tony Korologos
|
Date:
Monday, May 9th, 2005
Categories:
PGA Tour
---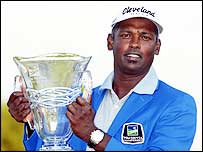 Yesterday I had a very busy day between playing 18 holes (and getting my clock cleaned), and visiting 3 different mothers and grandmothers for Mother's Day. When I got home I had the thrilling task of defrosting my refrigerator. While defrosting I started to watch the final round of the Wachovia on my TIVO about about 9pm. I had intentionally not watched the TV or checked the status of the PGA so that I could enjoy the theater more.
Sergio came into the final round in control. This was a great chance for him to notch a victory against a very strong field including Tiger, Vijay, Phil and others. In a previous post I mentioned that I wasn't quite sure Sergio was ready for the challenge. So I guess I'm tooting my own horn because it was obvious that he was not. He was visibly nervous. He hit some terrible shots under pressure (and an amazing 2 iron as well). He also made some poor course management choices.
Imagine the pressure Sergio was feeling as he was leaking oil on the course as Vijay and Furyk were hot on his tail. He still put himself in position to win the tournament on the last hole but failed to close it out with a birdie. This forced a 3 man playoff between him, Vijay and Furyk.
This is where my post changes from the PGA to a TIVO rant. At the point in time where the playoff was to begin it was midnight my time. My fridge was just about defrosted and I was about to become frosted. They get to the first playoff tee box and Vijay tees his ball up. Then my TIVO stops. It has come to the end of the recording! NOOOOOOOOO!!!!! The originally scheduled program was scheduled to end at this time, and the TIVO wasn't smart enough to continue recording the extended coverage of the playoff. After 3-4 hours of watching this tournament I then had to jump on the net only to find out that there was a 4 hole playoff. What a bummer. I need to tell the TIVO to record the program AFTER the PGA just in case I guess.
Sergio got knocked out on the first playoff hole. Then Furyk and Singh went 3 more before Singh was victorious. I wish I could have seen the playoff.
Now with another victory Singh strengthens his bid for player of the year. Think he'll win it? Vote in the poll and we'll see if the "pundits" are correct this time.