Written by:
Tony Korologos
|
Date:
Wednesday, May 4th, 2005
Categories:
Golf Courses
•
Hackers
•
Miscellaneous
---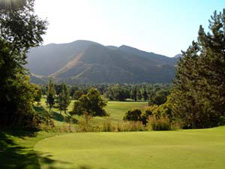 I played 2 days ago and the weather here was finally great. The conditions were perfect. I was doing a demo on a set of irons and a putter. So I go out and use these irons on the course with no range time or swings at all. They were excellent irons and I hit them fairly well. Shot a 72. Not bad for using irons and and putter I've never hit before. I'm going to demo them tomorrow as well.
Tomorrow is a round at one of my favorite courses, Bonneville. This course is a country club quality course for a muni price. The picture on this post is one that I took myself at Bonneville last year. This course is not extremely long. It does have a defense in it's greens. They are usually quite fast and have lots of interesting breaks. I takes a long time to learn the subtleties of these greens.
I'll do a complete review of Bonneville some time in the near future.