Written by:
Tony Korologos
|
Date:
Tuesday, April 26th, 2005
Categories:
Golf Media
•
LPGA Tour
---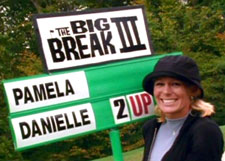 The pundits decisively chose Pam to be victorious over Danielle in the Big Break III final. The pundits were wrong. (I'm not a pundit)
I did pick Danielle to win based on her supposed "experience" and Pam being fairly new to the game. I had figured Pam would make some mental errors and Danielle would walk away with it easy. Pam did hang in there much better than I thought, and she had a way of making clutch shots when she needed to. Pam kept saying she didn't want to putt aggressively. Hello? When it's match play and you need to make a putt to halve the hole don't leave it short!
So now Danielle has a new car, $5000 in spending money at Golf Galaxy and two real exemptions into the LPGA Tour. She also won a spot in a celebrity tourney. I'm going to go on the record and predict that, as pretty as she is she's not going to make the cut in either LPGA event. She wants it bad enough, but wanting it alone won't bring her skill set to the level of LPGA pro. I'd love to be proven wrong but that's my take.
By the way I don't think $5000 is going to last too long at Golf Galaxy. But at least she can buy a new sand wedge.