Written by:
Tony Korologos
|
Date:
Thursday, April 21st, 2005
Categories:
Golf Accessories
•
Golf Apparel
•
Golf Equipment
•
Reviews
---
I've been happily wearing Footjoy golf shoes for about 20 years. I've gone through many of their styles and technologies and been completely satisfied with all of them…until now.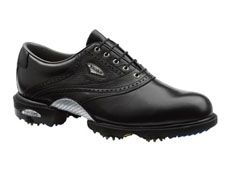 My Footjoy FitDogs finally wore out after two years of heavy use. I had about $150 in pro shop money at a local club so I decided to get some new shoes. I didn't bother with anything but the most expensive shoe FJ had to offer: the Dryjoys P.R.O. Costing around $160 this was the golf shoe to end all golf shoes!
The Dryjoys P.R.O. just look impressive. They are beefy and very stylish. They have an Aluminized Fiberglass Stability Bridge (wow, say that 10 times real fast). Basically that technobabble is short for "fiberglass arch." They have a 2 year warranty and use the fast twist spike system. Wow, let me catch my breath.
The Bad:
That all sounds great but what about their performance? For me the first thing I noticed was that I thought I was wearing high heels. The heel on these shoes is much bigger than regular golf shoes. My first round with the shoes I practically hit every shot fat and left because I was having to bend over farther to get to the ball. Walking was very "hard on my bones" for lack of a better description. My legs and especially my back ached badly when golfing with these shoes. It took about 3 weeks to adjust and get used to these shoes which is very unusual for FJ shoes.
About 4 weeks into this ordeal, the tops of the shoes started to form some creases. The shoes no longer had that perfect shiny shape to them. They were creasing and folding on top. Those creases started rubbing the tops of my toes and I eventually got the most painful blisters.
For some stupid reason I kept telling myself to have faith in these shoes. Just let them break in and they'll be fine. I was wrong.
The ugly:
About 5 weeks into my ordeal my feet were killing me but something new started to happen. When my feet got moist or sweaty, the ink from the inside of the shoes would run. My $160 shoes were destroying my feet and turning all of my $8/pair golf socks black. That was the last straw.
The good:
I called Footjoy's complaint number and left my name on the recording. They called me back quickly and had me explain my problems. Without even the least bit of resistance they gave me and RMA number and a shipping address. They didn't even ask me for a receipt. The only thing they could do was send me replacements of the exact same shoe. That was fine but there was NO way I was going to put them on my feet.
I sent the shoes back and my feet happily waved goodbye. About two weeks later I received the brand new replacements and promptly took them back to the club for exchange. I went the opposite direction this time and chose the cheapest Footjoys I could find: The $45 Greenjoys.
These shoes are like wearing slippers. They were perfect right out of the box. I'd recommend 2 or 3 pairs of Greenjoys instead of 1 pair of P.R.O.'s.
My rating for the Dryjoys P.R.O. is a 1/10 for looks only.