Written by:
Tony Korologos
|
Date:
Tuesday, April 19th, 2005
Categories:
Golf Media
•
LPGA Tour
---
The final 3 was reduced to 2 tonight. My prediction that Cindy would win the whole thing is now incorrect since she's gone. I thought her accuracy and short game would take her to the finals. Turns out it was her short game that cost her that chance. She didn't hit a long enough ball to survive on the LPGA tour anyway.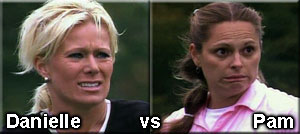 Cindy did have a funny quote about Pam: "She hits it like a man." The feminists are going to love that. Pam said about Danielle: "She wants it bad." Then a few seconds later they have Cindy saying "Danielle loves to grind it out." Those quotes just struck me funny.
So it's down to Pam and Danielle. These two really don't like each other at all. Danielle is either brilliant at playing mind games or she's a total idiot who is putting her foot in her mouth constantly. It should be an interesting match next week.
I've just figured out how to get a poll plugin for the site working so let's test it out! On the lower left column, vote for your pick between Pam and Danielle. We'll see next Tuesday if the majority was correct.