Written by:
Tony Korologos
|
Date:
Sunday, April 17th, 2005
Categories:
Golf Balls
•
Golf Clubs
•
Golf Equipment
•
Reviews
---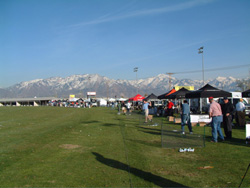 For the last two days there has been a big "demo days" deal going on at our biggest practice range in town. All the major golf companies were there. I decided to do the rounds and demo a bunch of clubs. I hit about 10 balls with each club. That's not really enough to make a solid conclusion, but enough to get the idea of the club's performance.
First stop was to talk to my new buddy Matt from Bridgestone. They have a whole line of clubs but you don't see them as often as some of the other companies. Apparently they are quite big in Japan. I had thought they were just a ball company, but they aren't.
First I tried their J33B forged blade irons. They felt quite solid. My shots all went right on line but I couldn't get the impression that I was hitting them on the sweet spot. That's blades I guess.
I then tried their J33 forged iron combos. It is a combo set that changes from cavity back to muscle back. Though the contact felt nicer than their blades, I didn't hit these as well. But they sure look nice.
I took a few swings with their driver, the J33R. I don't think it had the right shaft since I pushed and faded all of them (I'm a draw player mostly).
Unfortunately I wasn't able to get my hands on any of their B330 balls to try out. Looking at this post, I'm now thinking that Bridgestone is obsessed with the number "33." Every product they make has a 33 in it.
Adams Golf was right next door. I dropped in and told them I had a Tight Lies Ovation 3 wood and I loved it. They agreed and said "great club." Naturally. What else are they going to say?
I was anxious to try their version of the removable weight driver. The Redline RPM 430Q. When I hit the 430Q if felt "hard" to me. I wasn't really feeling the joy of that club at all. The Adams rep gave me a different driver to try: the Redline RPM. The RPM looked a lot like a TM 580 but bigger. I hit that club much better than the 430Q. Not the best club out there IMO. I'd give it a 6.5 out of 10.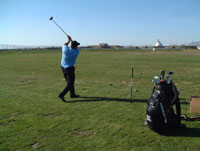 I caught a "clinic" by the Pinnacle/Cobra long drive guy Vince ONeil. This was basically him smashing his driver and hitting some of those trick shots off 5 foot golf tees. The word testosterone was used many times in his clinic. For his grand finale he hucked his driver about 150 yards. My only question is, can he putt?
Next stop: Callaway. When I got to the Callaway booth I ran into a golfing buddy. He was just in the midst of purchasing the new X18 irons. He'd hit a few and fell in love with them. That's the 2nd buddy that has bough those. I was mostly there to try all the new drivers so I went right for the Big Bertha 454. The head on that sucker makes my 983K look like a 3 wood. I had to tee that driver very high and it did go very far with a high trajectory. It was fairly easy to hit as well. It had a strange feel and loud sound that I'm not used to. It's a good driver though.
One of the main reasons I was there was to visit the Titleist booth. I had gotten a call from my buddy who loves all Titleist stuff. He hit the new 905 and was sold on it. I actually had to stand in line at their booth. The reps there seemed to have a little bit of a "we're cool" ambiance to them.
When I finally got to hit the 905T I was impressed. It sounded and felt quite different than my 983K. But it did fly great and the feel was excellent. I decided at that point that if I won some tournament money I'd by the 905T.
I then moved one booth down to Sonartec. Sonartec seems like a more "down to Earth" company. They don't make irons or drivers! I couldn't believe that. They do make hybrids and fairway woods.
The MD Transition series hybrids were awesome. They were as easy to hit as an 8 iron and were very forgiving. I was able to hit my usual draw, fade it or whatever. I tried their fairway woods, but wasn't nearly as impressed as I was with their hybrids.
Sonartec's clubs work awesome. They obviously spent more R&D money on the physical design and not the decoration. These clubs aren't "pretty" and the finish was wearing off.
Next down the line I visited my buddy Howard at Taylor Made. I didn't hit any of their clubs because I've already hit them. But he did give me some BlackMax balls to try out. I didn't have the nerve to tell him I'd already put them in my bag!
Ping had their club truck there that you see in all those TV ads. A friend had bought a G2 driver so I thought I'd try it for the hell of it. First swing I absolutely crushed it. I just laughed. You always hit other drivers well the first swing. Then I hit another and murdered it. I hit shot after shot and all of them were killed with my normal draw. I was hitting this thing so well I was literally giggling after every shot. That club is EASY to hit and it goes a mile. My pal that bought the Callaway irons came by, saw me hitting it and had to try one himself. He was amazed as well. He and I were sold. The Ping rep was very cool and wrote down the exact club specs for me (loft, shaft etc). All respect to the other drivers I hit, the G2 was by far the best for me.
Next door to Ping was Cleveland. The rep there was a salty chap that had been around the block a few times. He told me that if I like the Ping G2, I'd love the new Launcher 460 Comp. The 460 was a very pretty driver standing over it. And it did perform very well. But I was so much in driver euphoria with that G2 I just couldn't get into the 460. It was a good club.
Last stop: Hogan. I'm a big fan of Hogan irons. I didn't need to hit them because I was already sold and they are what I use. I already had their popular hybrid, the CFT.
I did want to try their new addition to the driver market, the Big Ben. This was their version of the removable weight system driver….or so I thought. The Hogan rep gave me a driver to try. I asked him what weight configuration it was in. He told me neutral. I asked him what configurations you could change it to and he informed me that the weights were PERMANENT and they had to be configured at the factory. Why the hell would you have a weight system that you can't configure? Doesn't make any sense to me.
So I hit the neutral driver. It wasn't anything to write home about. It was fairly easy to hit, but I'd rate it down the scale quite a bit. I'd rate it a 6 out of 10 if the 905T is an 8 and the G2 is a 9.