Written by:
Tony Korologos
|
Date:
Tuesday, April 12th, 2005
Categories:
Golf Media
---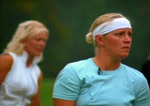 I am definitely a fan of "The Big Break" series. It's down to 3 ladies now. Tonight's episode saw all but but Cindy "throwing up on themselves."
I love that statement. That is what Chris DiMarco said about his back 9 in the 3rd round of The Masters.
Cindy has proven throughout the show that she has the guts to last. She's the shortest knocker of the bunch, but has the best short game and the best control of her nerves.
Liz had to make a comeback 7 footer to stay tied with "blondie" Danielle. She made every putt she looked at, until that one. So Liz is gone. Adios.
And then there were 3.
My prediction at this point is for Cindy to win in a battle with Blondie in the finals.