Written by:
Tony Korologos a.k.a. mediaguru
|
Date:
Friday, December 10th, 2004
Categories:
Golf Instruction
•
Golf Media
•
Reviews
---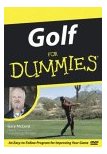 Here's my first DVD review! First of all I must say I love Gary McCord. Some people can't stand him as an announcer but I happen to love his humor. Since I have a great Netflix account I rented the DVD.
Gary kept his strange humor under control for the most part in this instructional golf dvd. The dvd is maily geared for beginners (or dummies I suppose) but there's plenty of good avice and drills for both beginners and golf veterans. I don't know what the retail is on this but it's worth a look.
Stars: 3 of 5